12.8v 6ah YT12B-BS,YT14B-BS lithium ion motorcycle Starter battery
Description:
12Volt most lightweight starter lifepo4 lithium battery Starting power:
There is simply no comparison between our batteries and lead acid batteries when it comes to stating your bike, which is what motorcycle batteries are designed for, our packs offer super high cranking power-generally twice the cranking power of the lead-acid batteries they replaced.
Ultralight tongyu starter Batteries powered by Lithium Ion Nanotechnology Cells
Superlight Race battery
Tongyu new superlight race battery packs are a revolution in battery technology, Our lithium iron phosphate(LFP)batteries offer an average of 80% weight reduction, far greater starting power and a much longer lifespan when compared to the lead-acid batteries they are designed to replace.
tongyu batteries are replacement for lead acid technology.
| | |
| --- | --- |
| Model | LFP14B-BS |
| product category | Lithium Battery-Motorcycle Battery |
| Place Of Origin | China |
| Battery type | Lithium Battery |
| Application | Motorcycle starter |
| Main Replacement Lead battery Part | YT12B-BS,YT14B-BS |
| Size | 148*65*130mm |
| Approx Weight | 1.3Kg |
| Voltage | 12.8V |
| Cranking Amps* | 250 |
| Capacity | 76.8Wh |
| Certification | UN38.3;CE;ROHS |
| Equal to Lead Battery Capacity* | 8Ah-16Ah |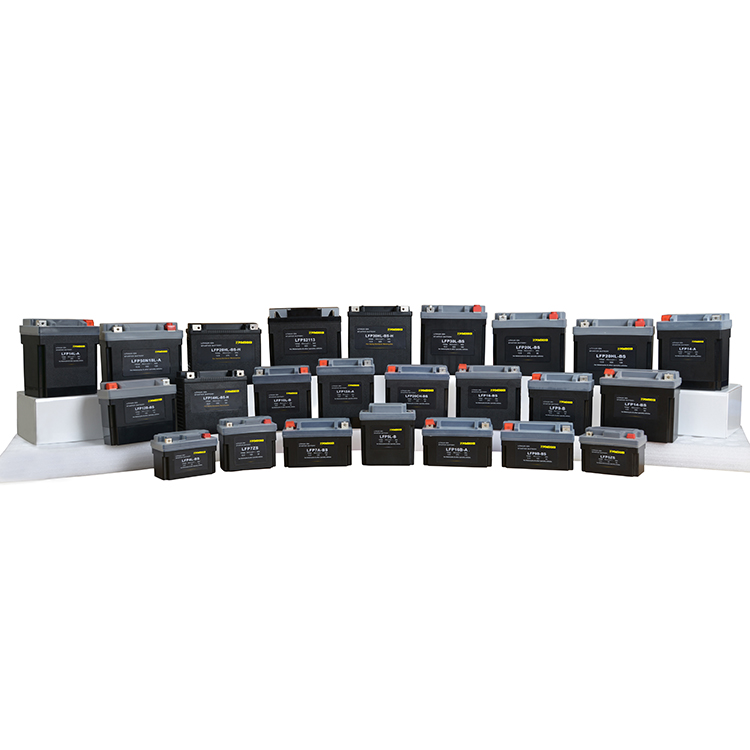 Advantages
1.Terminal
Using die casting&cold pressing technology,smooth&clean appearance,compacted&uinform inside,good conductive&other comprehensive performance.
2.Battery Container&Cover
ABS material,extremely resistant to the severe environment.
3.Positive&Negative Plates
With special active material,good for vibration resistance,service life extension and reliability improvement.
4.Inter-cell Welding Structure
Short conductive path,small internal resistance,good for high rate discharge performance.
5.Nut
Mounted inside the terminal,convenient connection.
6. Reinforcement Fillet
With reinforcement fillet at side faces,good for strength enhancement.
Company Overview:
We are a professional OEM automotive battery manufacturer with more than two decades experience , With pioneer technology and reliable process control system , we supply high quality batteries to all over the world and get many respect and trust from our valued clients. Many big clients worked with us for long time and their market share is bigger and bigger in the past few years. Our yearly export quantity more than 600-800 containers to middle east , Africa ,Europe, Africa and Australia .
Our product range includes:
* automotive and motorcycle battery , start stop battery (EFB and AGM),
* VARLA AGM battery for solar and UPS purpose , GEL battery, Deep cycle battery...
* Electrical-Bike battery,
* Hi-performance Lead crystal battery......
* Lithium LiFePO4 battery,
pls contact us for more information
If you are professional battery importer in your market , you are welcome to contact us at any time and we will be happy to answer all your questions .